"Faster Than Cash": An Interview with ftcash's Vaibhav Lodha
September 26, 2018
Last week, Mumbai social entrepreneur Vaibhav Lodha was in San Francisco trying to do Zeno one better by filling a finite schedule with an infinite number of appointments. A 2018
Asia Foundation Development Fellow
, Lodha recently learned that his financial technology startup, ftcash, had been named the Asia-region winner for financial inclusion in MIT's Inclusive Innovation Challenge. The regional winners will convene at MIT on November 8 for the awarding of four $250,000 grand prizes. On this day, we found him at The Asia Foundation's San Francisco headquarters, participating in leadership training as part of his fellowship.
Launched in Mumbai in mid-2015 by Lodha and two partners, ftcash ("faster than cash") is a digital payment platform that allows micromerchants, long excluded from India's banking and financial system, to manage their business transactions, establish their credit worthiness, and qualify for capital loans. The company was incubated by PayPal and is currently in a strategic partnership with MasterCard to provide merchant services globally. Lodha sat down with us to talk about his success.
When you founded ftcash in 2015, what was the problem you set out to solve?
I'll give you an example. The newspaper vendor in my neighborhood has been trying to get a loan from a bank to grow his business for the last 25 years, but no one would give him a loan. And the reason the banks are not able to give a working-capital loan to someone like this newspaper vendor is, first, they don't have enough data on him to figure out what his risk assessment looks like, and second, they've found it hard to acquire and service these kinds of really small micromerchants.
So, these people are "unbanked."
Unbanked, yes. There are 60 million-plus of these micromerchants in India. Let me say that again: 60 million plus. We are trying to help them get access to capital and to provide them with a digital payment solution as well. When they use our payment platform, we get the data from their digital payment history, and based on that transaction history, we're able to give them a capital loan, typically between $700 and $14,000. These are working-capital loans, so once they repay the first one they can get a larger-ticket loan the next time. The most critical part is that the repayment of these loans happens on the payment platform itself. They just need to make transactions on the payment platform, and the loan deductions happen automatically. So, it's a seamless system, because they don't have to think about repaying the loan on a daily basis.
How important are these small and medium enterprises in India's economy?
They are the missing middle class in India's economy, and we're trying to make that middle class as big as possible so that they're able to then live a much better life, because with financial inclusion comes also better nutrition, better healthcare, better education, and a sense of justice in the country as well.
How has adoption been so far?
We've been in operation for three years, and we've had phenomenal growth. More than 30,000 merchants are working with us. We are processing almost 72 million dollars a year in payment transactions. We have a 90-day delinquency rate of just 2 percent, which is much lower than the market standard, which varies from 5 to 10 percent in the segment, so we've been able to manage that risk really well. And apart from that, we have grown almost 30 percent month over month, which is a really good number. Now we are involved with a lot of international companies to expand globally as well, so that's another option we're trying to explore to see where we can go from there.
Is this a profitable business for ftcash?
Not yet.
But your plan is to become a bank, in effect?
A bank-without-being-a-bank. Our lending comes from financial institutions and banks. We do the acquisition of the merchant. We do the risk assessment, and we do the collections. So, the entire function of the loan is conducted by us. It's just the disbursal to the merchant that we're not doing: the financial institution transfers the money directly to the borrower. So, all the data is stored with us, and that's the most critical part. We can see the transaction history before the loan is dispersed. We're able to see a lot of data from the mobile phone. And when the collections are happening, we know how the merchant is performing, so we're also able to keep a regular check on their financial health.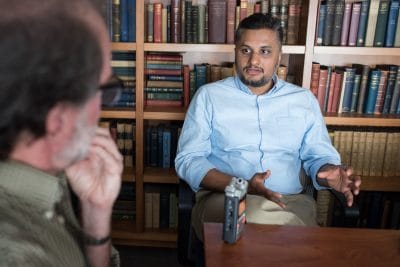 What has the MIT award meant for you?
We're hoping that MIT can help us with artificial intelligence and machine learning for risk assessment, and we're scheduling some meetings with professors and researchers to help us figure that out. Also, obviously, getting the recognition gives us a lot of validation that what we're doing is on the right track.
What has it done for you to be an Asia Foundation Development Fellow?
It's been an exciting journey. The most important part for me has been the leadership development: how do you convey a story and make sure that others relate and can connect with that story so that they become evangelists for your journey. I've seen so much support come in for our work over the last six months with the Development Fellowship. So many new opportunities have opened up. More importantly, I think as a cohort we have made friends for a lifetime.
Can you tell me another story about someone who benefited from using your technology?
Sure. There is one small vendor—he's like a hawker on the street very close to where we work—and he was one of our first customers, three years back. He started using our payment system to get his cash flow to go better, because what used to happen was people would call him up and say, oh, I need these vegetables or fruits, please deliver them to my home. And typically, the household help would be at home and not the owner, and he would not get paid for a week, two weeks, sometimes even a month. When he started using our payment system he started telling his customers, okay, I'm sending you this digital payment link so please make a payment and then I'll supply you this stuff. And not only did his cash flow improve, but his customer base became so large that he was eligible for a loan. And now he's been able to grow his business to have an established shop and expand into other merchandise as well.