Blockchain Technology Report India 2018
Your ultimate guide to the Blockchain industry of India
Secure Payments Powered By Razorpay or Paypal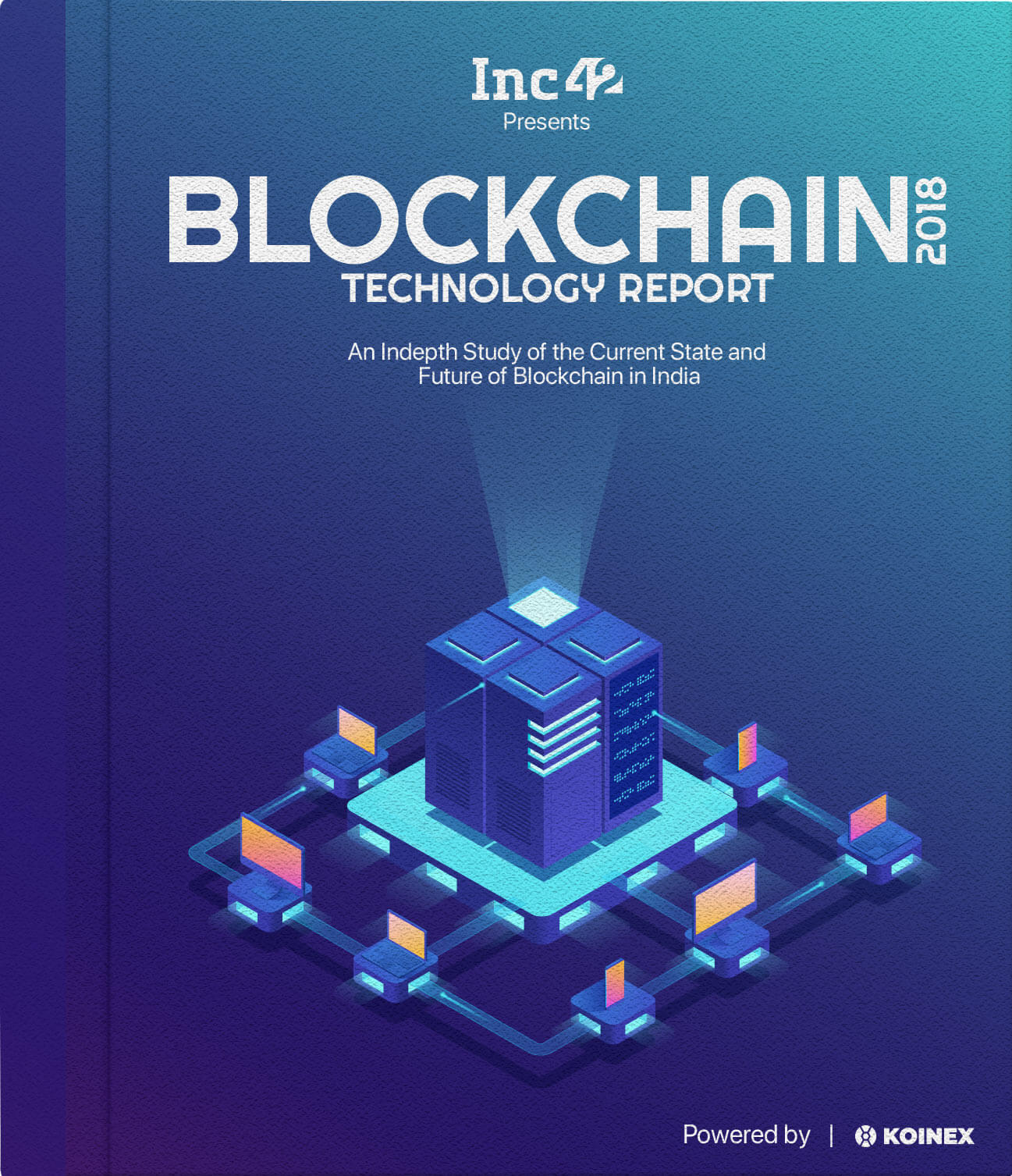 INC42 HAS BEEN QUOTED BY 100+ MEDIA OUTLETS AND REPORTS INCLUDING…
What's Inside The Report?
Get in-depth insights on emergence, growth and future prospects of Blockchain in India
The historical timeline of the Blockchain technology in India.

A detailed breakdown of the Blockchain technology and decoding the types of Blockchain currently in use.

Indian Blockchain startups and their detailed funding scenario.

Leading platforms that are catapulting the Blockchain technology to the mainstream.

The most popular and innovative applications of Blockchain across industries.

Government policies for the blockchain industry and future prospects.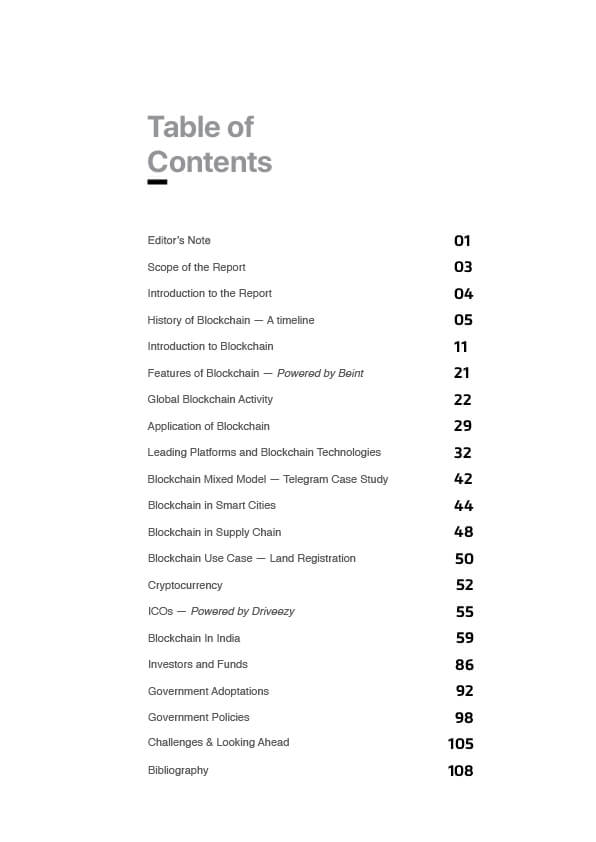 Blockchain Giving Rise To A $20 Bn Global Market
From India, Dubai, South Korea to Russia, Sweden and the European Union (EU), Blockchain technology is being rapidly adopted by big and small countries alike. Here's an overview…
The South Korean Ministry of Sciences plans to push $230 Bn KRW in Blockchain projects.

22 European countries formed a Blockchain partnership to exchange information on technology.

Dubai plans to roll out 20 blockchain-based initiatives in 2018 to improve government services.

The Singapore government has also allocated funds of more than $225 Mn for blockchain research and development (R&D).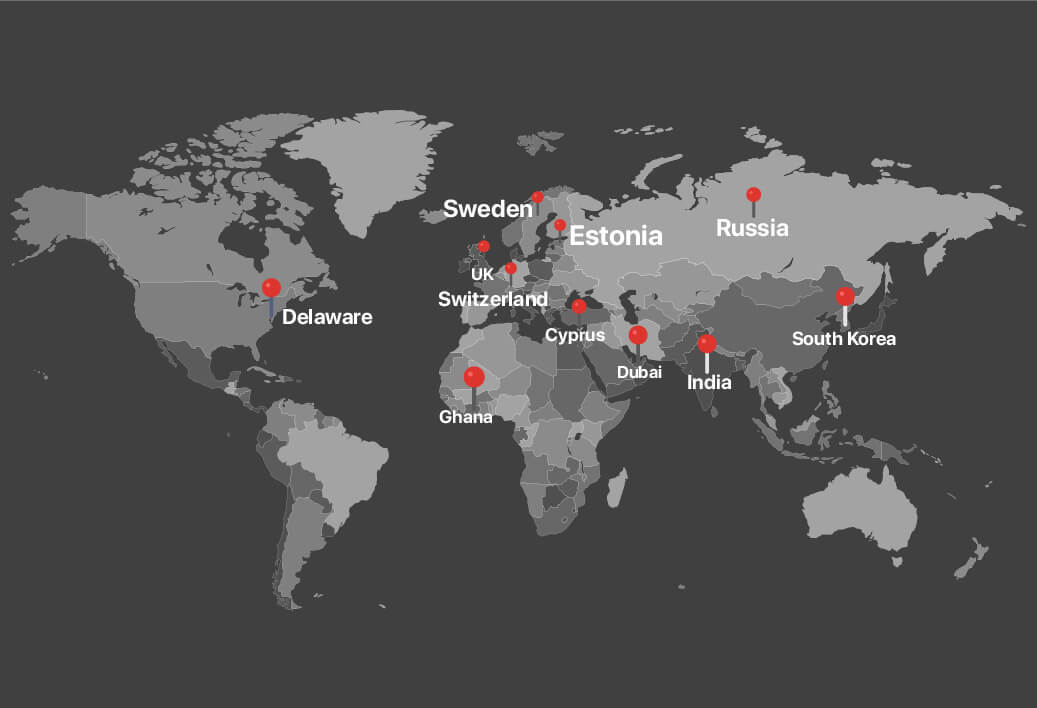 Blockchain Startups – Raising Funds From Investors vs Going The ICO Way
Indian Blockchain industry is still nascent and startups are in the dilemma to raise funds from institutional investors vs going the ICO way
So far there are about 100 startups exploring Blockchain technology in India.
Most Blockchain startups are taking the ICO route for raising funds.
Delhi/NCR, Bengaluru, and Mumbai have emerged as the most Blockchain-savvy cities.
Government of India Eager To Adopt Blockchain
The government of India wants to usher into the digital economy using Blockchain. The Government is planning to use Blockchain in the following sectors:

Koinex is India's first and largest digital assets exchange, to give Indian investors a window for crypto-trading through an exchange which is at par with other global exchanges. Started by three aspiring minds, Aditya Naik, Rahul Raj and Rakesh Yadav, Koinex began with the mission to turn India into a hotbed of blockchain technology development.

Drivezy is the pioneer of peer-to-peer car and bike sharing in India. Backed by Y Combinator and Google, Drivezy's rental services are an efficient alternative to outright vehicle purchase for consumers. As a marketplace platform, Drivezy provides a revenue-generation opportunity for vehicle owners as well. It was founded by Ashwarya Singh (CEO), Hemant Kumar Sah (CTO), Vasant Verma (COO), Abhishek Mahajan and Amit Sahu.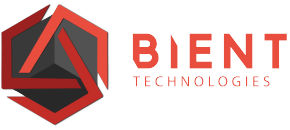 Bient Technologies brings about a vision to shape the future of Blockchain Technology and its applications in India. At Bient, we believe in the foreseeable future of blockchain and value the disruption its application could bring about in any sector. As a startup, our mission is to integrate the core functionalities of blockchain in your day to day interaction with technology. Our goal is to align your business interest and empower them with the power of decentralised applications.
Help your friends stay updated about the Indian Startup Ecosystem.
Share this report!